Digital Equipment
Digital printing opens up new possibilities for cost and time efficiency in printing. Short run projects are now feasible. Fast turnaround is achievable and quality is no longer an issue. SPIRE Express has been working in the digital print space since its inception in 1994. Having helped to evangelize the market, we are experts in all aspects of digital printing.
Minolta
The Minolta is best suited for short-run work. We typically recommend it for comps, initial proofs and some small signage needs. For any print runs longer than approximately 250 pages, or print runs requiring high-quality, we recommend the Indigo.
Typical Projects: Comps, presentations, proposals
Specifications:
Accepts paper sizes up to 13" x 19.2" and weights up to 350 gsm, with envelope printing at rated speed
Productive banner printing with new banner tray that holds 1000 banner sheets of up to 29.5"
High-speed dual scanning at speeds up to 240 ipm for hard-copy originals
1200 x 1200 DPI resolution with 8-bit processing for smoother, more realistic images
Enhanced Simitri® HDE toner for superior halftone and skin-tone reproduction, with biomass plant-based material to reduce environmental impact
SEAD V Screen-Enhancing Active Digital Processing System continuously maintains image stability
Versatile inline finishing options to suit any production need
Konica Minolta participates in EPEAT, a ratings standard for measuring electronics products' environmental impact.
Indigo
Specifications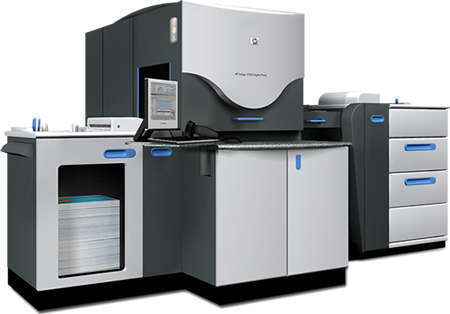 Printing speed: 4,000 4-color 8.5" x 11" images per hour (two-up); 8,000 2-color or single-color 8.5" x 11" images per hour (two-up); 16,000 full monochrome (1/0)
Image quality: 812 x 812 dpi; 812 x 1,624 dpi when printing in High Definition Imaging (HDI) mode
Line screens: 144, 160, 175, 180, 230 lpi
Image size: 12.1" x 17.7" max.
Paper format: 12.6" x 18.5" max.
Paper weight: 55 (A1) lb. text – 130 lb. cover coated; 45 lb. text – 110 lb. cover uncoated
HP Indigo inks:
Standard 4-color printing: Cyan, Magenta, Yellow and Black
HP IndiChrome 6-color printing: Cyan, Magenta, Yellow, Black, Orange and Violet
Pantone colors: PANTONE-licensed HP IndiChrome on-press 6-color printing, using CMYK, as well as orange and violet. PANTONE-licensed HP IndiChrome off-press ink mixing system, for spot color creation, using CMYK, as well as orange, violet, red, green, blue, bright yellow and transparent HP Professional PANTONE Emulation Technology (PANTONE-licensed CMYK values for 4-color PANTONE simulation)
Conventional Equipment
Commercial Sheetfed Offset Printing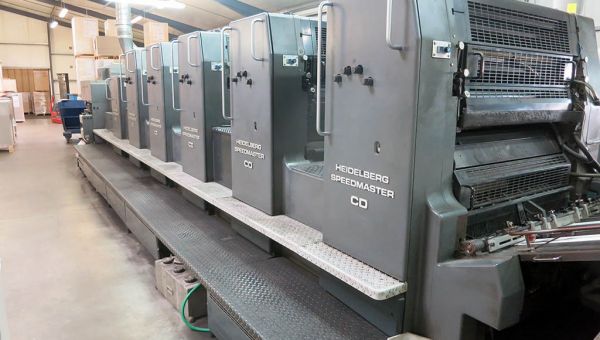 SPIRE Express offers traditional sheetfed offset printing on two-color – six-color presses with offline finishing. Commercial Offset is suitable for high quality, longer print runs that might require saddle stitching and perfect binding. It is also a great solution for litho art reproductions. Our experienced staff ensures that your print projects are successful every time.
Typical Projects: Any commercial print project
Specifications:
Type of Press: Sheetfed Offset
Max Size: 29″ and 40″
Stock: Up to 120# cover
Colors: Six-color, with aqueous and varnish coating
Ink: Traditional and metallic inks
Prepress: Direct-to-plate workflow
Heatset Web Offset Printing
SPIRE Express offers Heat Set Web Offset printing specifically designed for long run, full size catalog and 2-up digest books. Half-webs with in-line combination folders, and gluing stations are capable of delivering a finished product without ever going to the bindery. Full size single and double web press from 26 – 54 roll widths can create catalog signatures from 4 pages to 48 pages in a single pass ready for the bindery.
Typical Projects: Medium to long run commercial printing
Specifications:
Max Size: 26 – 54 single and double heat set webs
Stock: Up to 70# text weights through combination folders
Colors: 8 color including UV coating
Ink: Traditional and metallic inks
Prepress: Direct-to-plate workflow